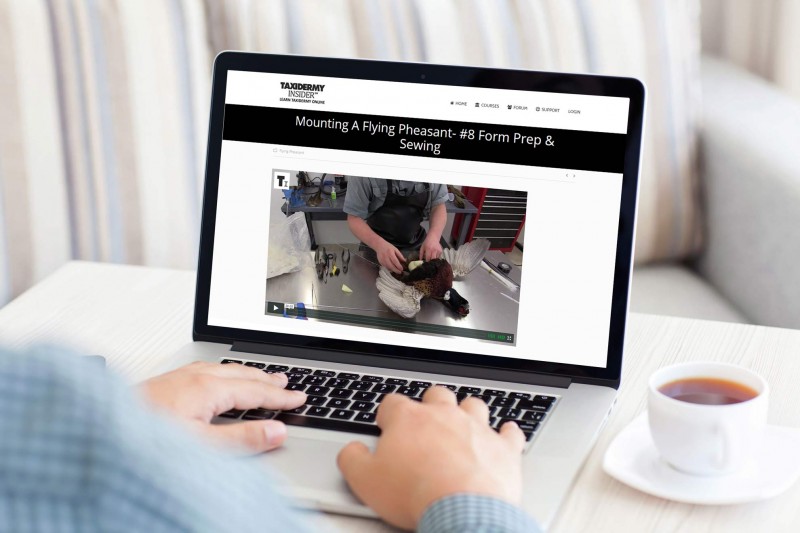 The rapid advance in digital media delivery over the last few years has opened many doors in education. Never before has so much information been available to so many people so fast.
After two years of intense research, development, and hard work, the staff at Stehling's Taxidermy has released the future of education in taxidermy —-Taxidermy Insider ℠ .
The short description of the site is an online video training membership site,but it encompassed much more then that. Instantly watch hours of full HD training videos from any device, at any time. Instead of a DVD that only gives you 2 to 4 hours of training, Taxidermy Insider ℠ courses can be 10 hours or more and cover everything you need to know. Still have questions ? Jump on our members only forum and ask the people who made the video directly ! You can even contact them privately for help through the personal message system. Try getting that out of a DVD. It gets even better. Membership costs only $35.00 per month for access to ALL of Taxidermy Insider ℠ video content and online support ! It has never been so affordable to learn taxidermy.
Our video courses are set up in easy to consume lessons. All of the lessons are titled and numbered so you can easily and quickly reference different steps. Each course comes with a supply list download, reference pictures and written pro tips. Our videos also have sub titles with the actual item numbers of the supplies we recommend !
We go even further then that. Our videos are set up on a World wide content distribution network and the Taxidermy Insider ℠ web site is on it's own server to ensure fast playback of our videos anywhere in the World.
Stehling's Taxidermy Insider ℠ is the first taxidermy video education company to make full HD training videos for exclusive online playback. Insider is also the first online training web site in the taxidermy industry to offer videos at an affordable monthly membership cost. Taxidermy Insider ℠ is the first online site to directly connect the instructors in the videos to the students through our members only support forum.
We do all of the video recording, editing, encoding, transcoding, and web development work in house. This ensure that you are getting the most out of each video,and each video meets our rigorous quality standards.Speaking of quality, lets touch on our video equipment. All of the equipment used to make the Taxidermy Insider ℠ training videos is professional level. Our pro camcorder is a late model that records incredibly detailed, full 1080 HD video. We use field monitors and peaking to ensure each video lesson is coming through at the best picture quality.We also utilize lavaliere mics that are directly connected to the Camcorder to ensure the sound quality is always clear. One thing that really sets Insider videos apart is the close ups. Our equipment has a 2 x zoom that captures excellent close up details of each step. It is like you are right there with us as we work through the lessons !
All of our courses take you from absolute beginner to advanced . If you are going to learn taxidermy, why not learn from an established and successful shop right from the start ? Stehling's Taxidermy has been in continuous, full time operation for over 40 years. Our second generation studio has produced over 20,000 custom mounts for sportsmen, taxidermists, bio supply companies, restaurant chains and large scale sporting goods retailers. When it comes to experience and quality , no one beats Stehling's Taxidermy Insider !